Are you looking for fundraising ideas for your student council? You've come to the right place.
Student council is about working to better your school and boost school spirit. Funds from student council fundraisers usually go to local charities, scholarships, facility upgrades, and school community projects. Sometimes, funds are raised to help a student or teacher suffering a hardship.
The challenge isn't finding enough worthy causes for the funds you raise, but finding creative ways to raise those funds—activities that get the student body involved and encourage giving.
We can help. Get inspired with the following five fundraising ideas for student council (for more general fundraising ideas, look here). As you can see, we've got spirit, yes we do! We've got spirit—how 'bout you?
Utilize the following five fundraising ideas for student council to jump-start your classmates' humanitarian spirit.
1. Use your school colors in a school Color Run
For your next student council fundraiser, try a Color Run to make running a 5K fundraising race less intimidating and more fun. At each mile marker, volunteers toss colored powder at the participants running by (the powder is simply dyed cornstarch, which is safe to toss around and can be made easily, in your school colors). Since the race isn't timed, the emphasis isn't on competition, and there's more room for people to enjoy their experience and the explosion of color—participants wear white shirts so the colors really show. Have your student council organize a Color Run on campus, allowing any student or community member to participate with a donation as the registration fee. Last-minute donations can also be made using a mobile device.
2. Host a battle of the bands
Show off the musical talents of your student body by hosting a battle of the bands. Announce audition days and times. Have the student council (or the whole student body) vote on which bands enter the battle. Ask permission to use the auditorium as the concert venue on a specific day and time—making sure that you've lined up students or staff to help out with mics, speakers, etc. You can even create a printed program for the event.
In the weeks leading up to the battle, sell tickets for the price of a donation to your fundraising campaign—make sure to collect names or hand out tickets with each donation. You can also sell tickets at the door using a mobile device.
Obviously, the success of this event hinges on the quantity and quality of bands at your school. If the audition yields too few bands for a good show, consider pulling the plug. Alternately, you can consider similar fundraising ideas for your student council: perhaps a poetry slam, rap battle, dance-off, or other performance competition.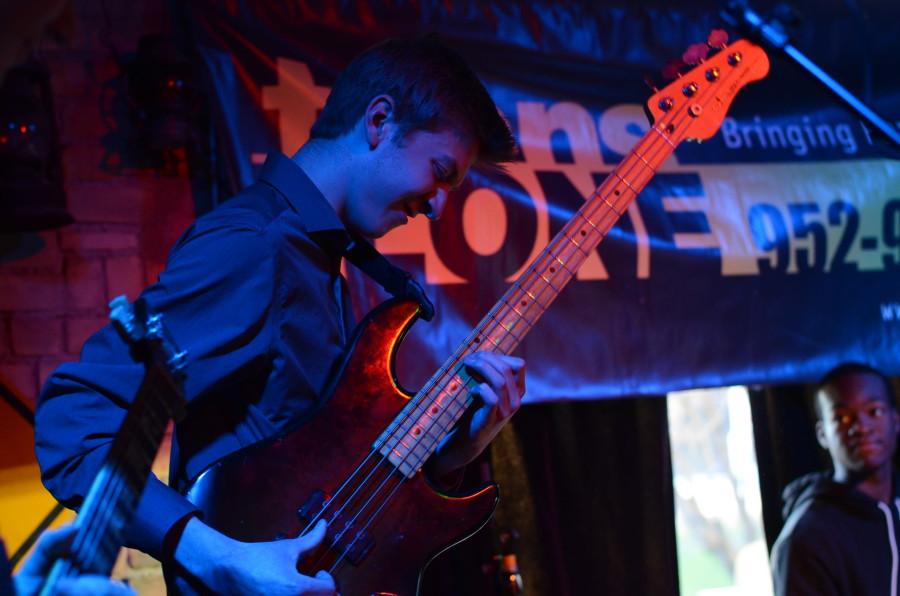 3. Pit students vs. teachers, blacktop, after school
Look out the window—see that blacktop or field that's used to play a wide variety of sports like basketball, soccer, foursquare, tetherball, kickball, etc.? Why not use it to your advantage? For your next student council fundraiser, organize a friendly competition in a handful of different sports (played separately, or combined as a pentathlon or decathlon). To make the event more fun, form teams of three or four people who compete against other teams for medals or trophies (maybe silly ones—keep it fun). Teachers vs. students? Students vs. students? A mix of the two? How about returning alumni? You and the student council decide. To raise funds, each player and/or team pays an entrance fee by making a donation to your online fundraiser. A small admission charge for spectators can raise even more funds.
4. Host your very own Triwizard Cup
A thrilling student council fundraiser idea for Harry Potter fans: Have teams compete in three missions that mimic those in Harry Potter and the Goblet of Fire. Teams sign up for the Triwizard Cup by paying a registration fee in the form of a donation to your online fundraising campaign (you can even have people put names and donation amounts in a "gold" goblet, almost like a blind auction, and select a set number of entrants to compete).
First Task

: Dye a large number of eggs green, and only three eggs gold. Hide all of the eggs around your field or other outdoor space at your campus. The first team to find a golden egg wins X points, with the second and third golden eggs earning progressively fewer points. If anyone steps on a green egg, they are disqualified from the task.

Second Task

: Ask each team to select a student (one not already on a team). Student council members then hide these people in different locations on campus. Give each team written clues to help them find the hidden people. Award X points for the first person found, and fewer for each additional person until all have been retrieved.

Third Task

: Set up a maze on campus (perhaps in the auditorium). To make it more challenging, require that each team member finish the maze alone, in a relay race where the second team member can't start until the first one finishes, and so on. The first team to have all members successfully get through the maze wins X number of points, with fewer points award to each successive team to finish.
Add up the points at the end of the tasks and award the winning team a homemade Triwizard Cup. You could also keep the Cup in a case at school so students can vie for it annually.
5. Put your teachers in a sticky situation
For this student council fundraising idea, all you need are rolls of duct tape, a ruler, a chair, a wall, and a willing teacher or two (maybe a principal for good measure). Student council raises funds by selling students strips of duct tape about a foot long for $1 each (let students know that there's no limit to the number of strips they can purchase). When the event begins, students attempt to stick the adult "volunteers" to a wall. To increase the number of donations you receive, If more than one teacher volunteers, have multiple stations set up. Those being taped to the wall stand on a chair as students tape them. Once the students think they've successfully stuck their teacher or principal to the wall, remove the chair to see if it's worked—those who succeed get a prize.
The sky's the limit
The possibilities for student council fundraisers are almost endless—check out our fundraising ideas page for more great tips that could spark your student council's imagination. And with YouCaring, you get a crowdfunding platform that's completely free to use. Unlike other sites, we never take penny of the funds you raise for ourselves.
Before you plan your own event read Seven Simple Tips for Hosting a Successful Fundraising Event.
While you must be 18 or older to create an account on YouCaring, students can ask parents or teachers to set up an account. Start your new student council fundraising journey today.
---
More Fundraising Ideas: